Total Solar Eclipse       August 21, 2017     Rough Draft, Page Under Construction
Trip to Oregon
The morning of Saturday, August 19th, Glenda and I drove out of Lathrop to Winnemucca, Nevada, where we stayed with a reservation of $45 at the Motel 6. We did not obtain reservations for the trip home assuming we'd make the trip in one shot. We should have. There was not traffic, amazing since dense, ugly traffic was expected. We got up at 3AM and headed out about 4AM for our site in Oregon. We had 6 sites plotted, one main site and 5 back-up sites. It was expected that a high census would make it difficult to obtain a good site.
Originally we were going to observe the eclipse in Madras, OR since it has the highest probability of clear skies for the entire length of the eclipse, and it is on the road north from our home. We had arrangements in a hotel, but they dumped us for higher rates due to the eclipse. I-5 and US 97 were going to be a madhouse, so our friend bill Liter said that we could go to his friend's ranch NW of Long Creek, OR.  At the last minute, we were having exact location issues, so I came up with multiple back-up locations. Geographically, we would pass these back-up locations before the ranch. One was perfect, but a sign on it said "No Trespassing", so we went to #w, and it was excellent. There were only a handful of people there when we arrived Sunday morning at about 9:30, it was in National forest land, so we most likely should not be kicked out, and it was excellently open in the area of viewing he eclipse. So we stayed put. I had talked to Juliano Bianchi, Grant McKinney, Omar Anzualda, and Eric Panza regarding these locations inviting them to join us. Eric found it and he joined us for the eclipse, the others did not come to our site. By eclipse time there were roughly 200 people at this site.
We stopped outside Mt. Vernon and got t-shirts, cinnamon rolls, and pooped. Other than the hotel price gouging, we experienced no inflation, food, gas, t-shirts, they were all fair and square. Gas at this point has not run out.
Site
 We were ½ mile west of US 395 about a half mile north of Mile Marker 96B. Our estimated duration time was 2 minutes 2.5 seconds. It was dry forest at 5100 feet above dry grazing landscape. The weather was PERFECT!
Equipment
I took an AstroScan 2001 SAS club scope, Glenda used it. I took a 4" microDob that Ben Brown gave me for my school use, I put it on a one-armed Dobsonian mount. This was my primary visual instrument. We took Glenda's 6" f/8, Eric used it. I took Bruce, a 140mm Astrophysics triplet refractor, Starfire, on a Takahashi EM-400 mount. This was my photographic platform. I shot it with a Canon EOS t2i, Costco special. We had binoculars, didn't use them.
Photos of Eclipse
My Photoshop experience is pretty lame, but here are a few layered stacked images. Heads-up, some came out pretty weird.
<![if !vml]>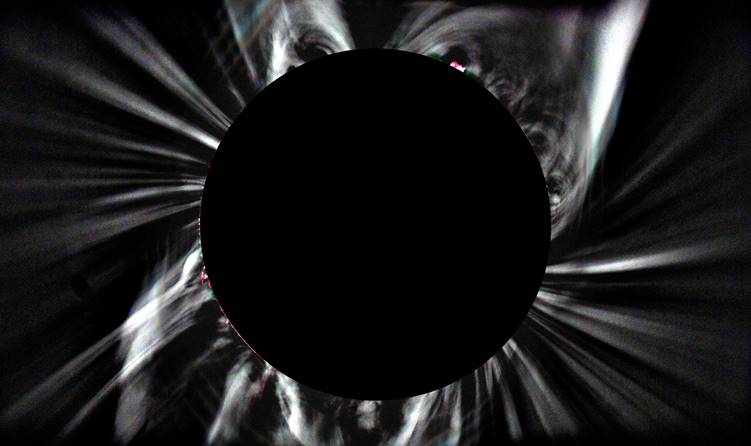 <![endif]> <![if !vml]>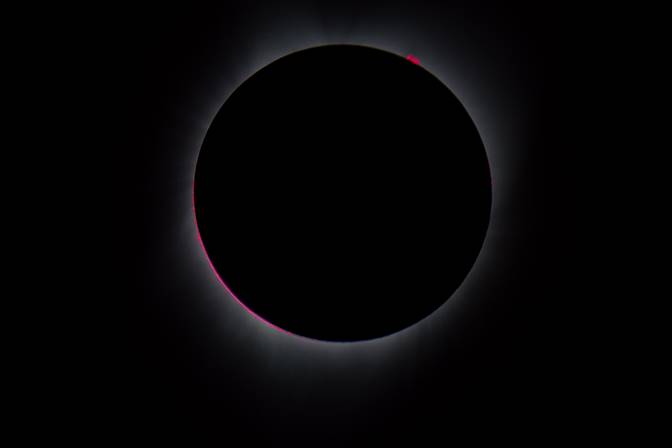 <![endif]>
In trying to get details from the outer corona all the way in to the inner corona, I ended up with this.                             Shorter exposures combined to show the chromosphere and flare.
It is by no means what I was trying to get, but it is so dramatic that I thought I'd post it.
<![if !vml]>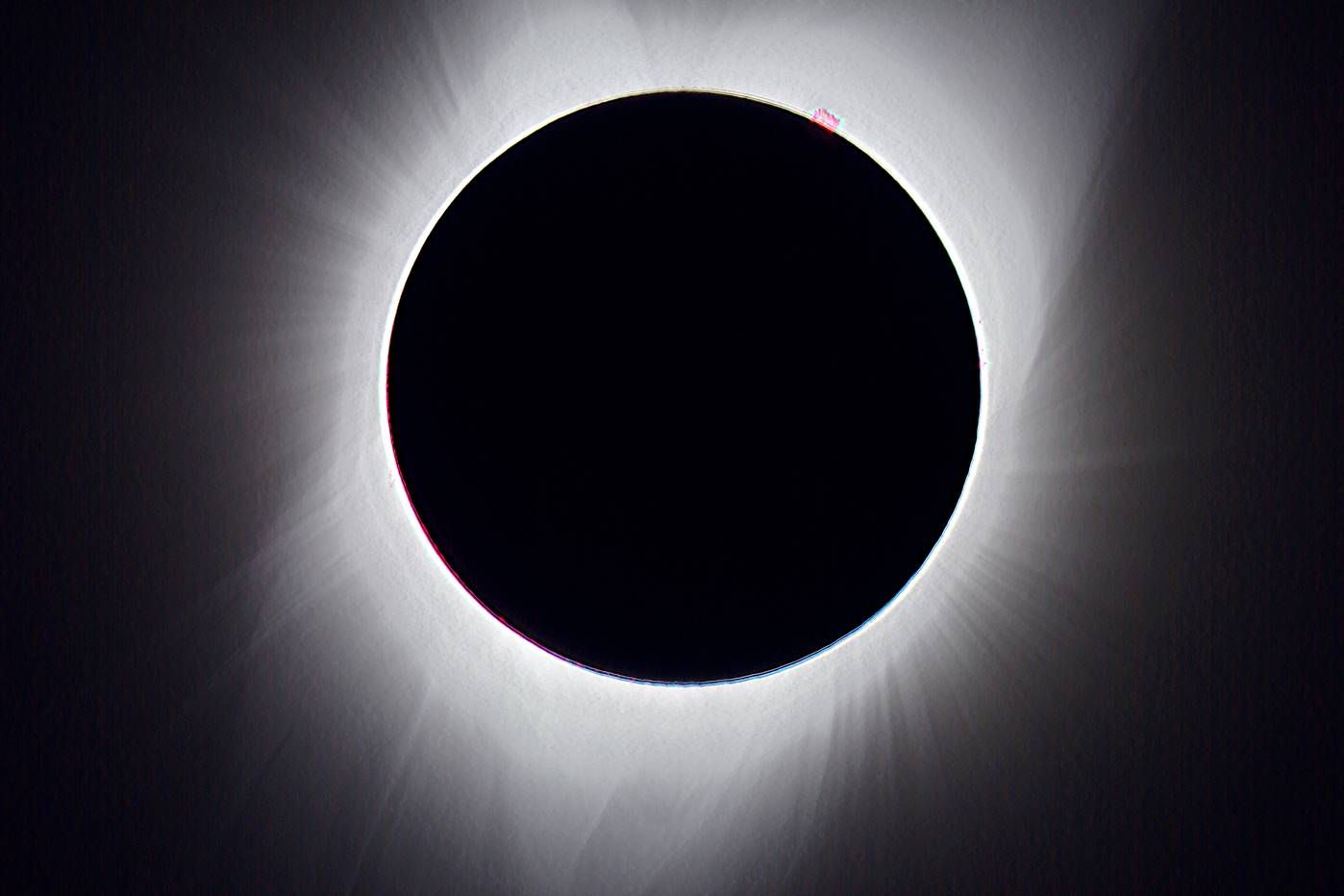 <![endif]> <![if !vml]>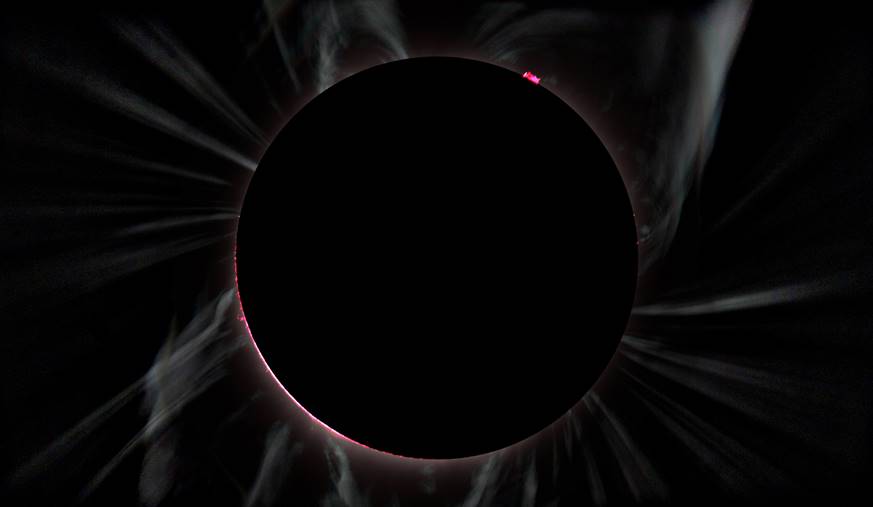 <![endif]>
Another chromosphere shot.                                                                                                                                                  Chromosphere combined with crazy corona effect.
<![if !vml]>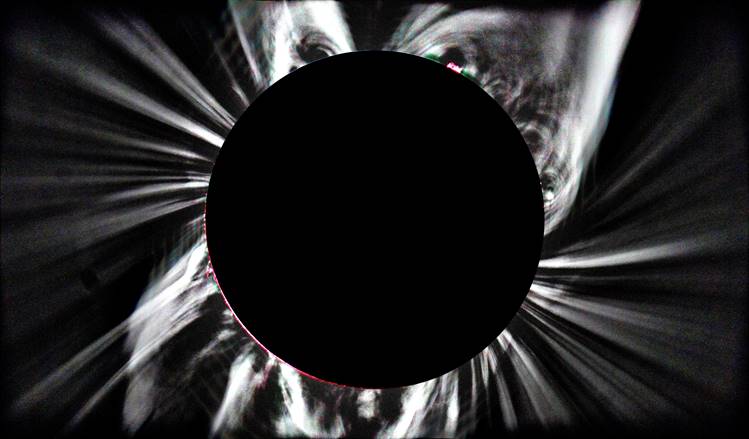 <![endif]> <![if !vml]>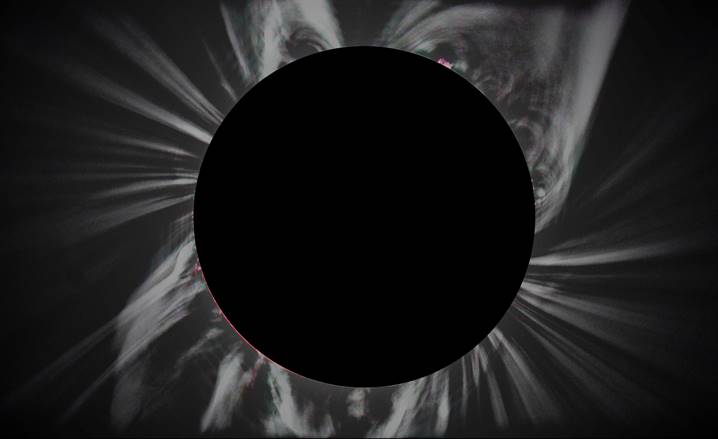 <![endif]>
Deeper, brighter, weirder.                                                                                                                                                     A bit softer.
<![if !vml]>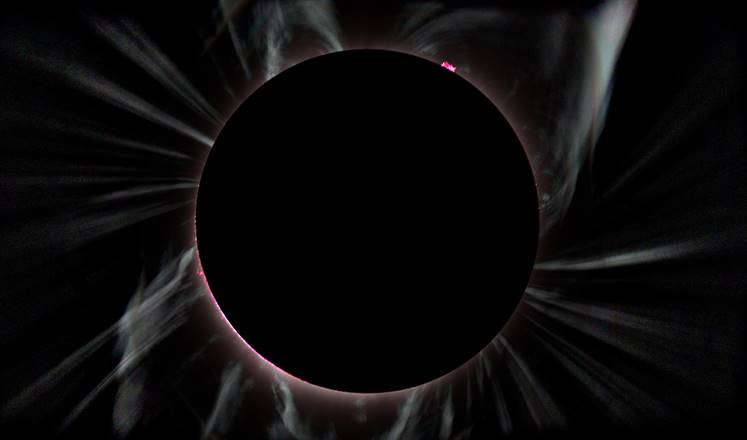 <![endif]> <![if !vml]>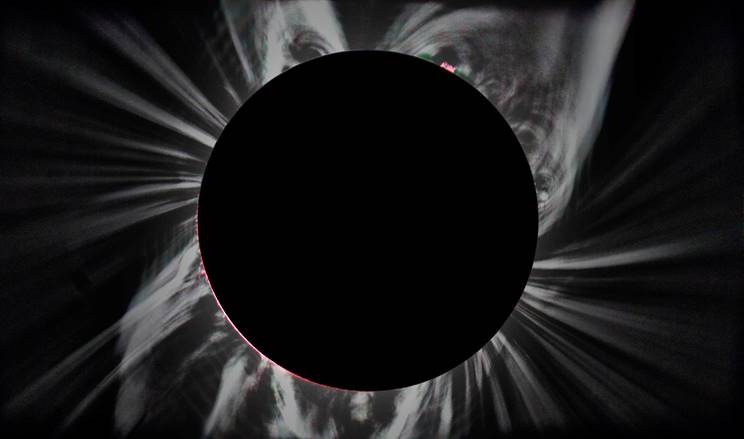 <![endif]>
More corona weirdness and harder chromosphere.                                                                                                    Just more.
<![if !vml]>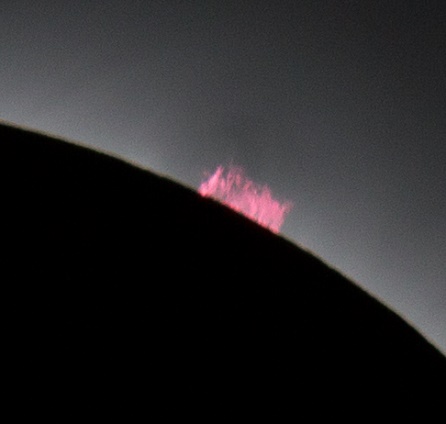 <![endif]>                                                       <![if !vml]>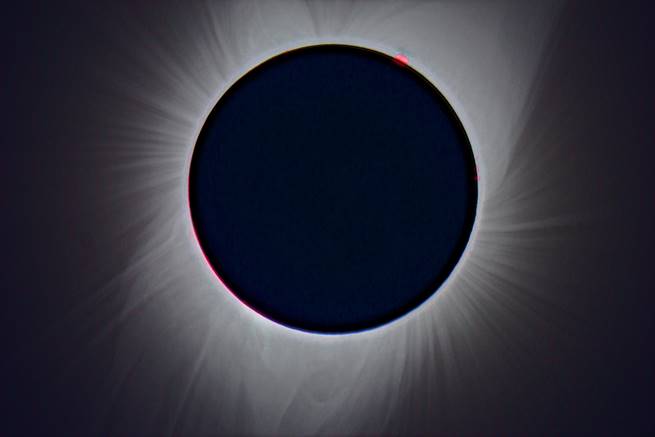 <![endif]>
A flare zoomed in on. This was early in the eclipse, later on the "stem" of the flare could be seen.                       Closer to what it actually looked like, but I just don't have the Photoshop skills to make it happen.
Here are my original shots where I used Photoshop to merge images. I have no idea what I am doing with Photoshop.
<![if !vml]>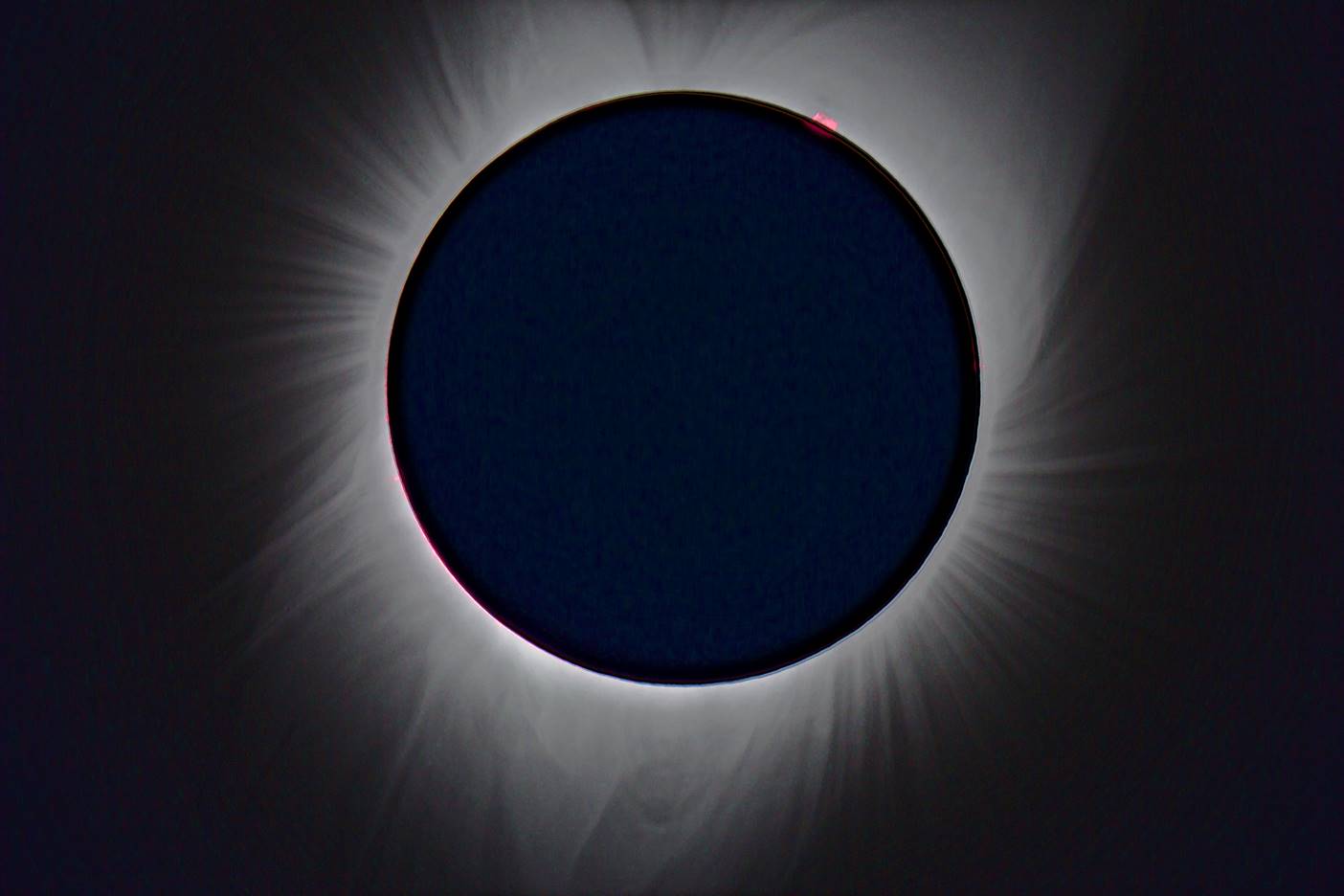 <![endif]>
This is a fair balance between solar flare and corona.
<![if !vml]>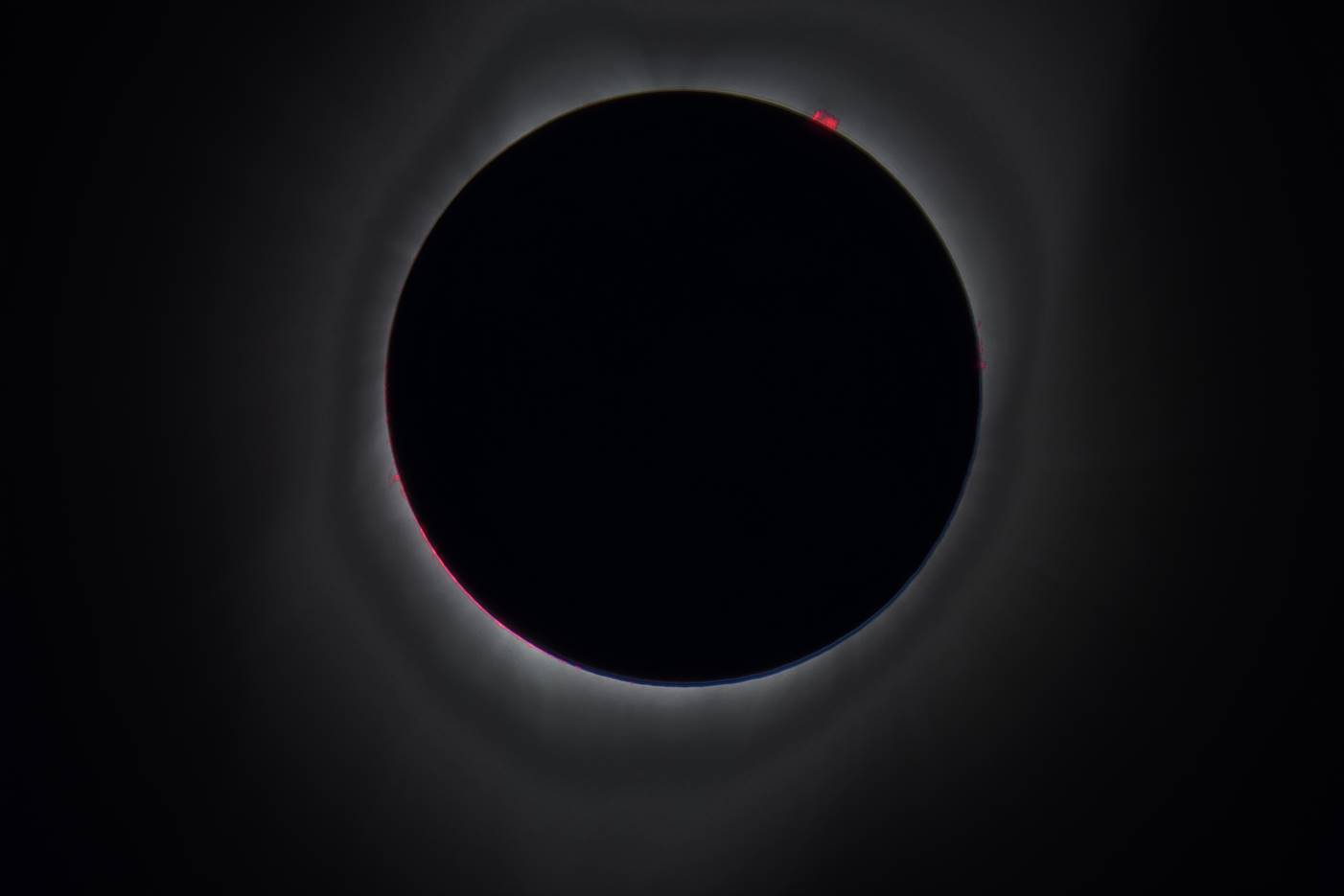 <![endif]>
This is balance for the solar flare and the chromosphere appearing around the lunar limb in the lower left.
<![if !vml]>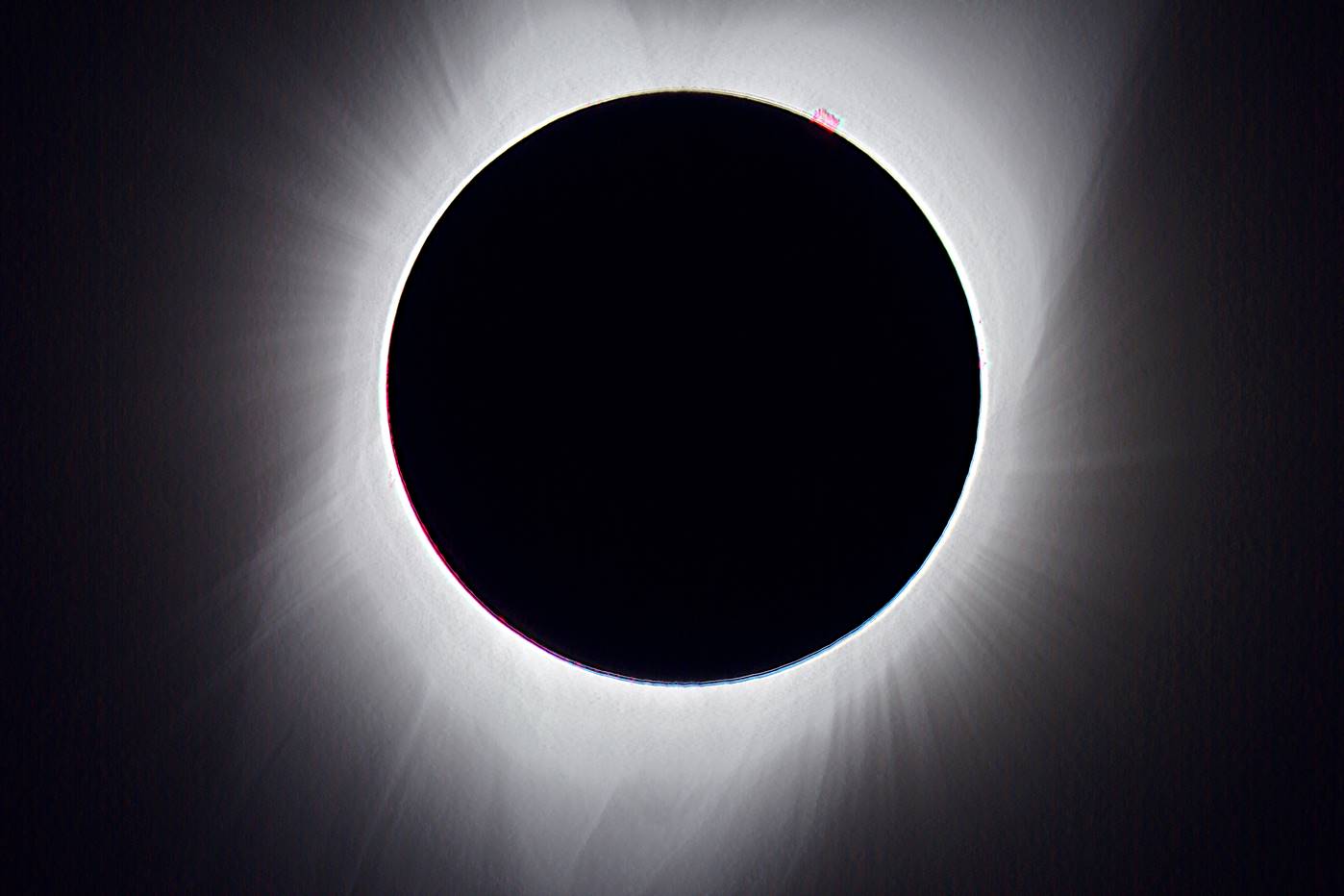 <![endif]>
Balanced to show more mid to outer corona.
<![if !vml]>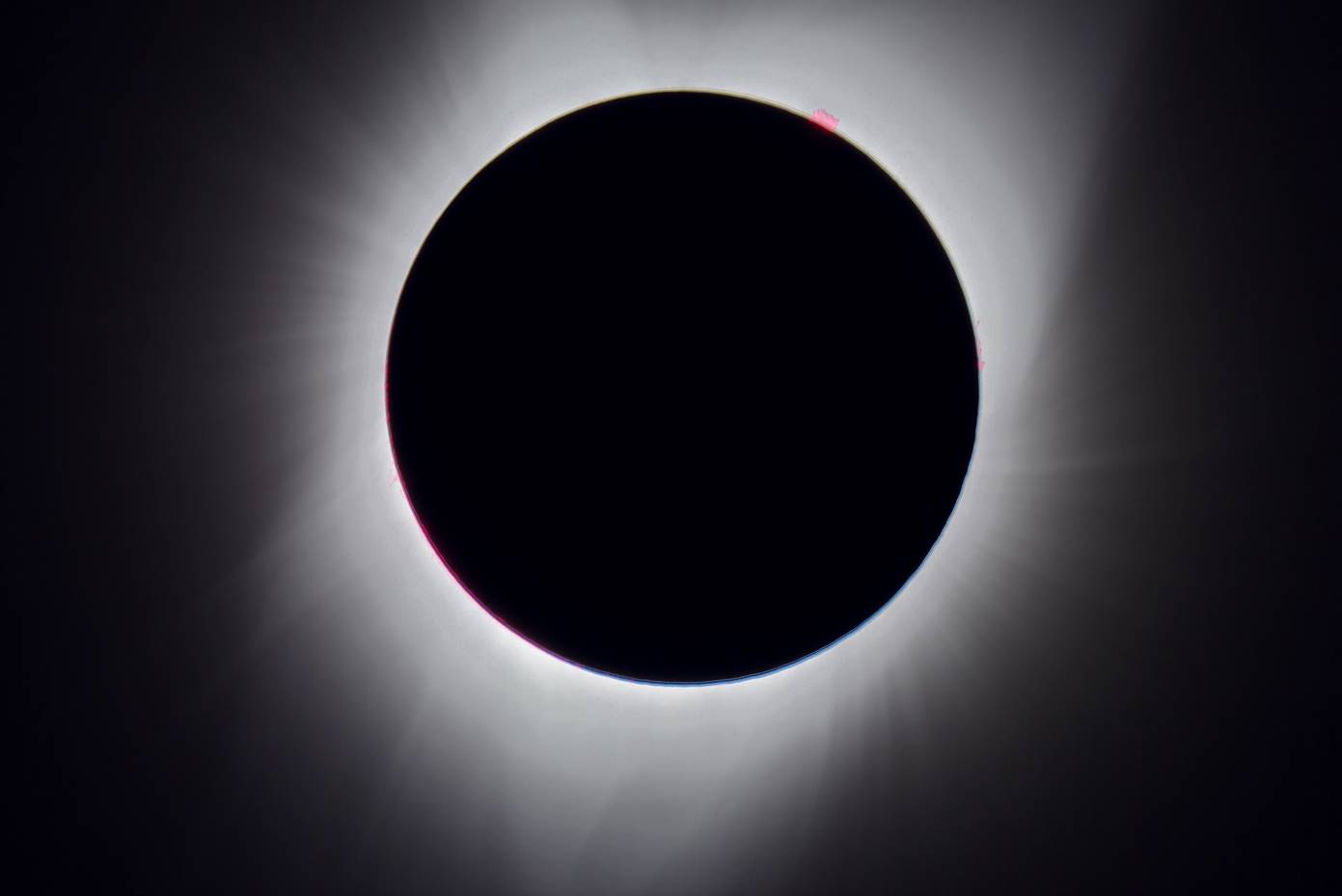 <![endif]>
This is a bit softer, but not striation information is showing.
<![if !vml]>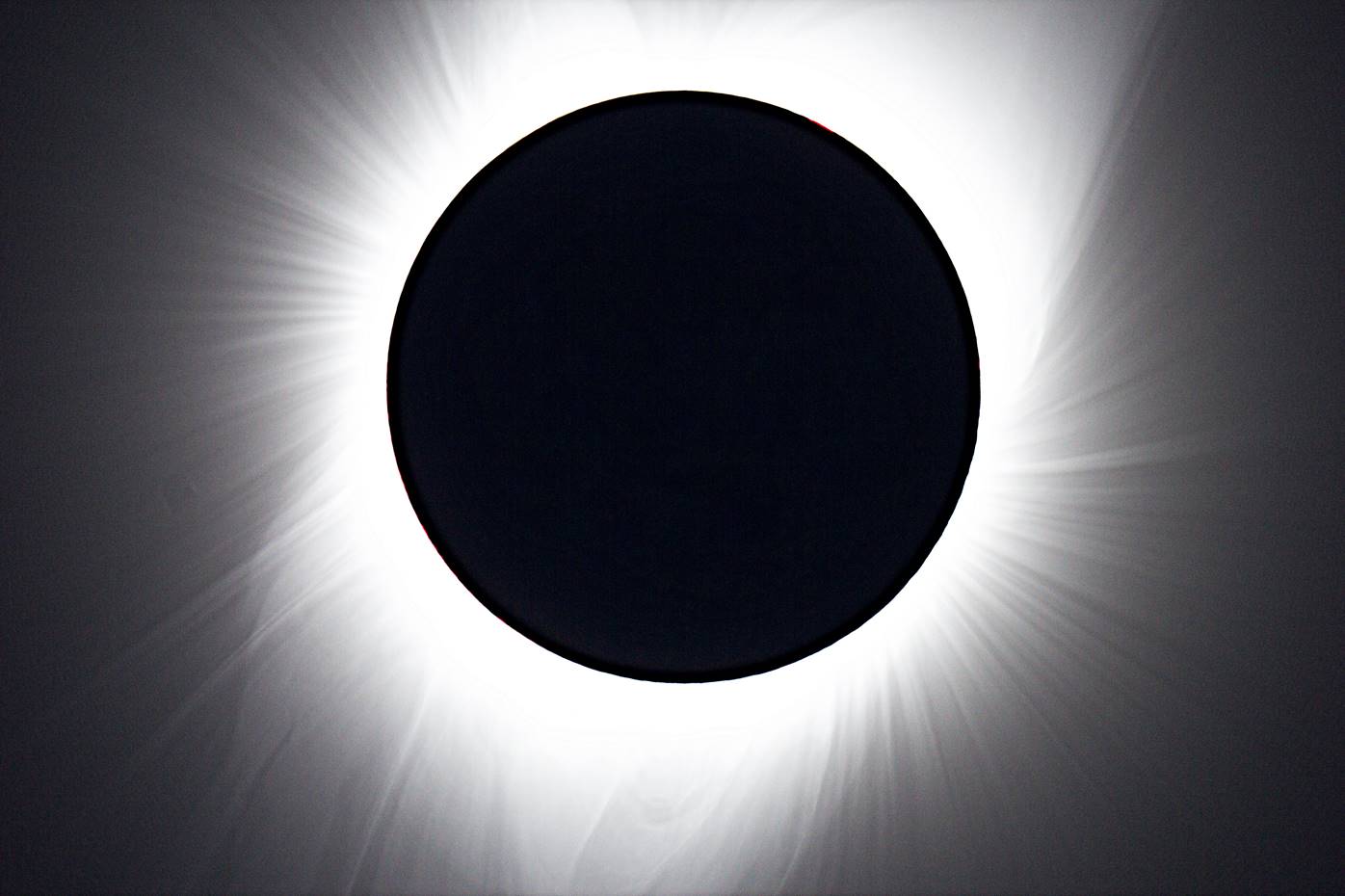 <![endif]>
Over-exposed, but shows more striation information in the outer corona.
<![if !vml]>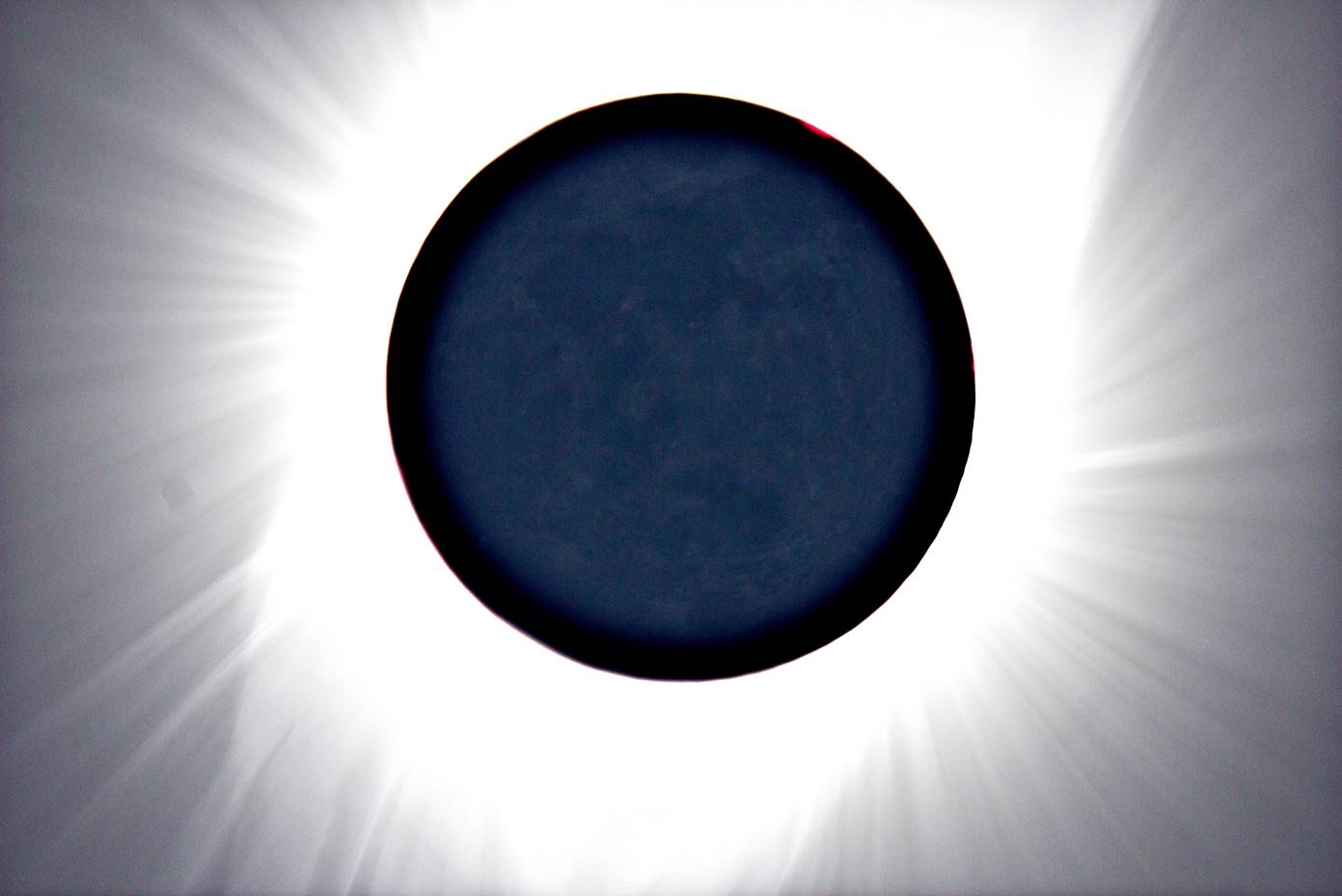 <![endif]>
Processed to show more outer corona striation information, and as a result the Earth-lit lunar face shows details.
<![if !vml]>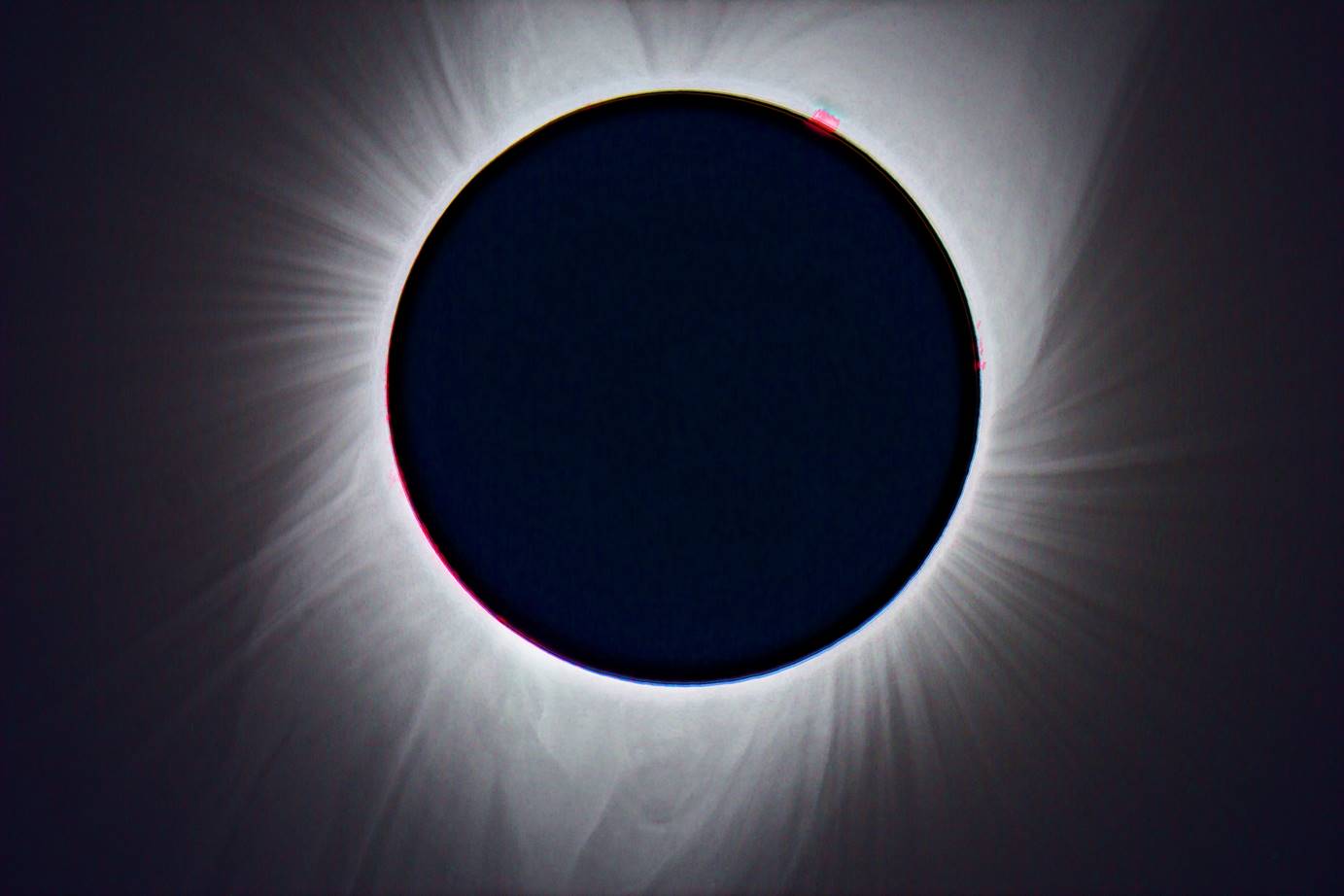 <![endif]>
A bit of Photomerge stacking, a bit of unsharp masking, and a bit of brightness and contrast goofing gave me this image, a best balance so far between inner chromosphere/flare features and outer corona features.
Trip Back to California
The totality ended around 10:24 AM and by 12:15 we were packed and ready to drive away. Nobody ever seems to look at the partial phases after totality, they pack up. We were confident that we would make it home before midnight. It took us about 5 minutes to find out that this was very incorrect. The traffic jams they had predicted became a reality. We finally got out of most of the clutter after burns, OR on our way to Winnemucca. I had built a large box to go on my trailer hitch to carry extra gasoline expecting that the gas stations would run out. They did. We couldn't get gas before Winnemucca, so we pulled over near the Or/NV boarder and fueled up. That got us to Winnemucca where there were no more gas outages. But we didn't have a motel room and we were four days of sleep deprivation and realized that getting home in one shot was going to be bad. However, there were no rooms. With the construction there weren't places to pull over and sleep. When we did find places to sleep we couldn't. No rooms in Winnemucca. None in Sparks or Reno. We tried to sleep in the Reno Wal-Mart parking lot, but couldn't. Se we continued. Tried to motel up in Colfax and Auburn, finally just drove home. Glenda took over for the last two hours. We pulled in our driveway at 4:07 AM Tuesday morning. I am so glad that we got home without getting hurt or killed.
Summary of Experience
The sky darkens, the sun fades away in intensity. It gets cooler. Then shazam! It goes out like somebody flipped a witch. The black round disk of the moon covers the sun leaving only the corona to be seen. Through the scope you can see the striations in the corona, the crimson flares protruding from the limb of the Moon [actually the sun which is covered by the Moon], and at the very beginning and very end, you can see the bloody chromosphere sneaking along the limb of the Moon. Everybody is cheering in amazement and disbelief of what is happening in front of them. You can see stars and planets. We saw Regulus [alpha Leonis] about a degree and a half from the limb of the moon, still well within the solar corona. Too short of a time goes by and it ends with a tiny little arc-welder glare one the limb of the Moon, and it combined with the corona gives us the illusion of a diamond ring. All the people applaud. Then as it begins to brighten the landscape you notice that the colors of the grass, trees, people and all things are wrong. You can't get a finger on it, they're just wrong. It shouldn't be, the solar photosphere is again illuminating everything only 1/1000 times as bright as usual. But your brain says the colors are wrong. Within 10 minutes it is bright enough that things look totally normal again.
Of all the things that happen in an eclipse, there is one that you don't expect to happen and it is the most impactive of them all. That is the emotional whack that happens to you. It is overwhelming. It's like a baseball bat across the chest. You're standing there on the edge of weeping. You're hugging your loved ones. You need to go wipe your ass because you just crapped your pants.
<![if !vml]>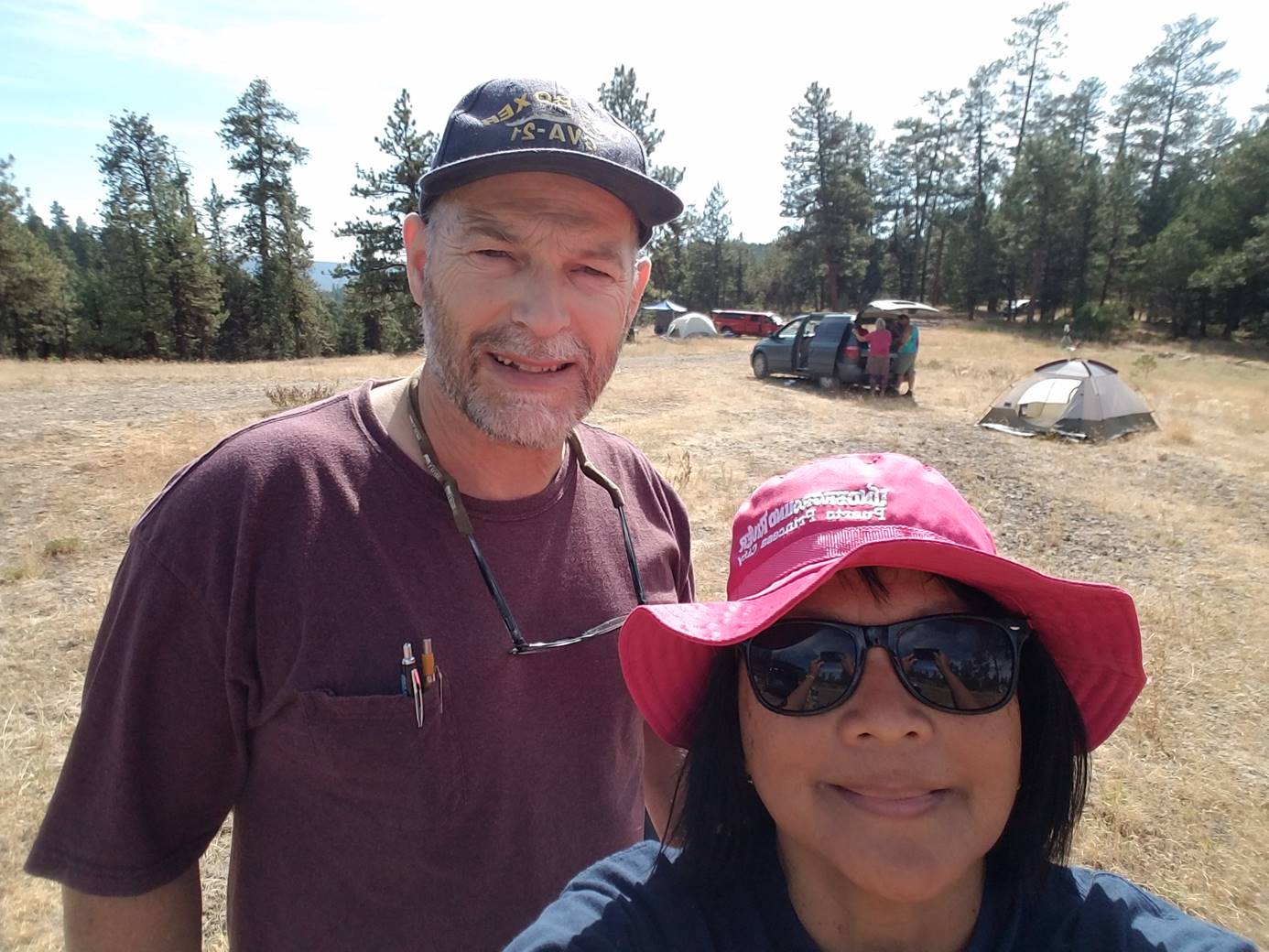 <![endif]>
This is Glenda and I the day before the eclipse after we arrived at our spot. We were immediately certain that this was where we would observe the eclipse. Why move, it's perfect. The weather was clear but a bit hazy, later that night it got very cloudy and we had some concern, but he forecast was excellent. I did an on-the-spot star party since the folks there had never seen a high quality refractor. It was fun but a bit hazy. Later, about 1AM it cleared perfectly and was shockingly beautiful. I polar aligned the scope and it was ready for business.
<![if !vml]>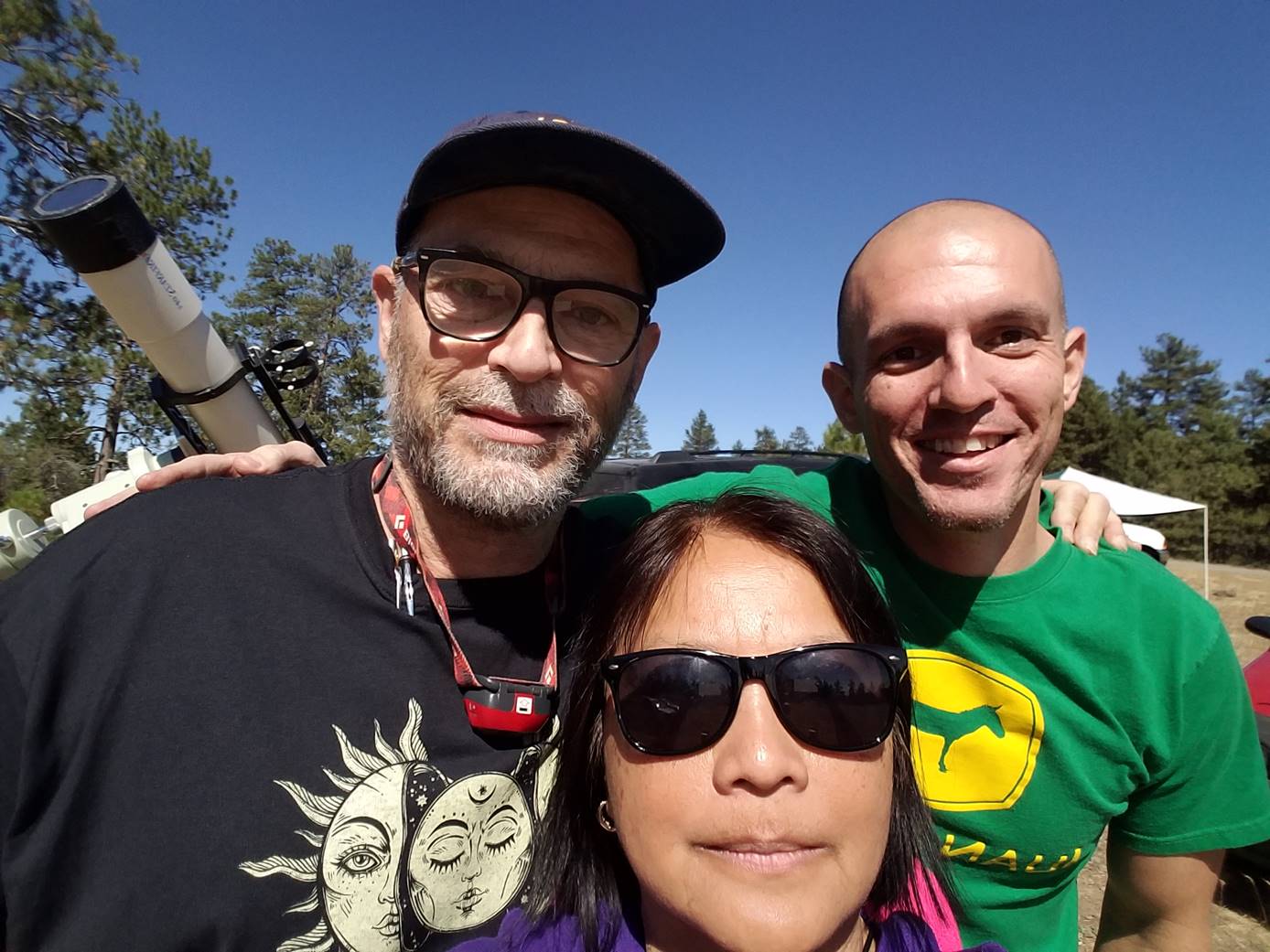 <![endif]>
Glenda and I were joined by my nephew Eric Panza. The three of us had such a remarkable time that we were brought nearly to tears. An eclipse is more than an astronomical even. It brings out undiscovered emotional reactions that are totally unexpected. I highly recommend that you, at some point in your life, go see a total solar eclipse with people you love. This was shot only minutes after totality. We were still in shock.
<![if !vml]>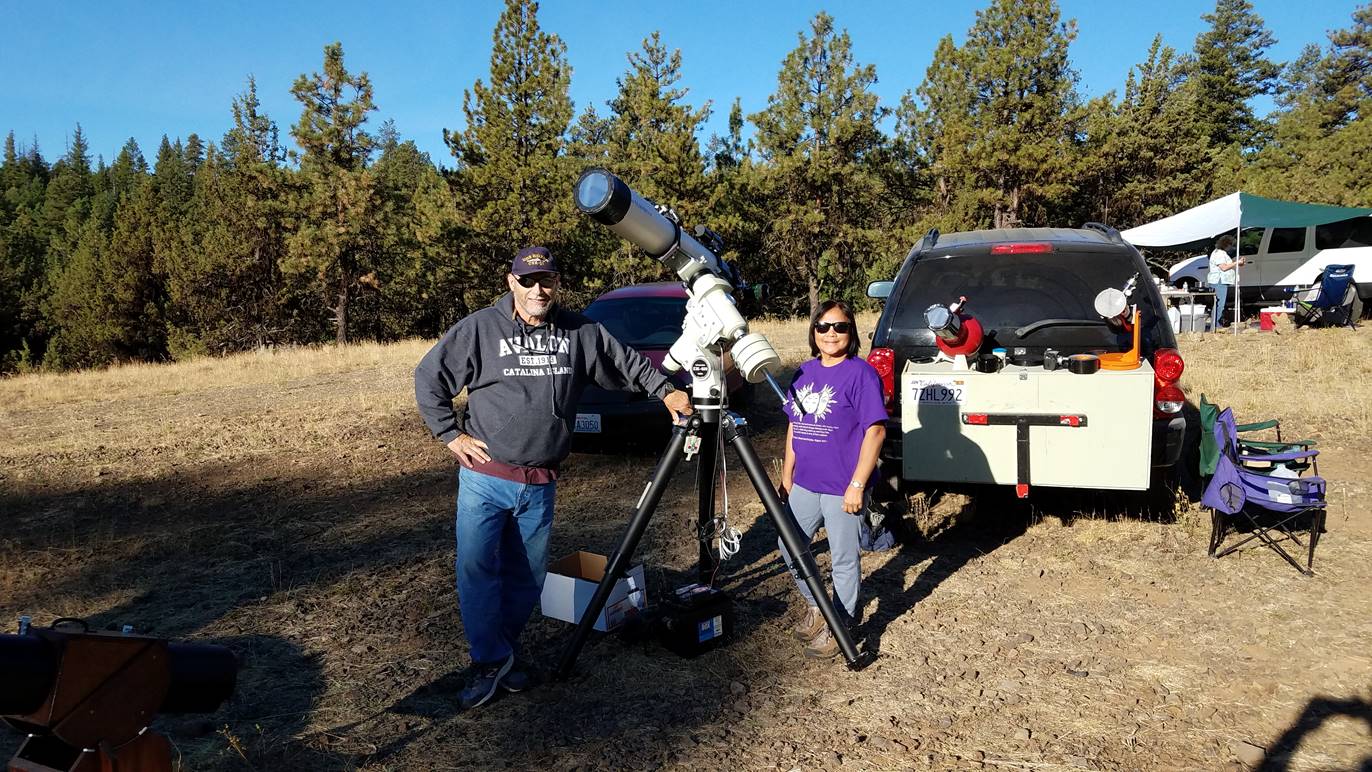 <![endif]>
This is our set-up for the eclipse. It is only about 7:50 AM and we are waiting for the sun to clear the trees so we can establish a good focus and make sure the alignment is good and the drive is working. The telescope was given to us by Ellen Raemsch. The telescope was her husband's, Bruce Raemsch, who passed away earlier this year. So the telescope's name is Bruce in his honor, and when I finally get my "official" eclipse photograph processed, it will be dedicated to him. It is an Astrophysics 140 Starfire EDF, sitting upon a Takahashi EM-400 German Equatorial Mount. I used a Canon EOS t2i Rebel camera to shoot my photos. I honestly was not certain I was going to shoot shots. I was either going to shoot or look at the eclipse through the scope, I decided last minute to shoot. I'm glad I did. IO didn't clean my camera at all and unfortunately my eclipse photos have dust issues, but nonetheless I like them. The telescope has a pair of Lundt 100 mm hydrogen alpha filters, stackable, but I chose to not bring them due to already having too much stuff to deal with, and I didn't want to mess them up. Plus it's an eclipse, there are too many other things to worry about.
On the gas tank box, the green box on the back of our Dodge, we set up 4" scopes to observe the eclipse. They worked wonderfully! Glenda on the red one, me on the black an orange one. The red one is an old Astroscan 2001, it belongs to the SAS. The black on, BB, was given to me by Ben Brown [hence the name BB], I use it at school. It also worked wonderfully. They were perfect for solar eclipses. You can see detail and the power is low enough that you can see the corona way out. In the foreground, bottom left corner of the photograph, is Glenda's homemade telescope a 6" f/8 Dobsonian. Eric used it to observe partial phase, but I think he did not for totality.